BrightFox chosen by L.A. Libations' to enter SIP (So Cal Incubation Program) - Expanding Retail and Distribution Footprint in California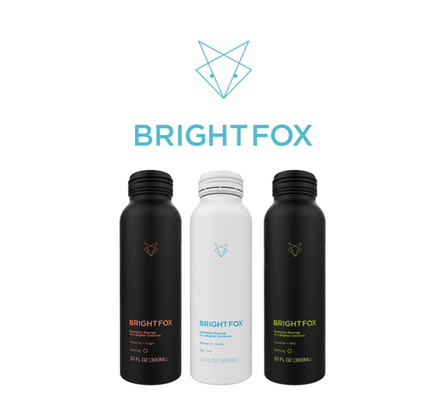 New York, NY: TBE Beverages, the maker of the BrightFox Hydration Beverage has entered into a partnership with SIP -  L.A. Libations beverage incubator, to lead the expansion of distribution and brand building efforts in California.
BrightFox leads with key differentiators within an otherwise broad hydration category. The beverage contains the highest electrolytes of any beverage in the world today with zero calories, zero sugar, zero sweeteners, zero stimulants and zero colors – attributes which set BrightFox apart from any other beverage on the market today. Packaged in a resealable aluminum bottle, BrightFox addresses the ever relevant and important issues of tackling packaging waste and promoting a circular economy.
BrightFox will enter Southern California, with an initial focus on driving distribution of its Sparkling Hydration line of products within strategic key independent retail, regional grocery and convenience channels.
This development marks a major milestone in BrightFox's growth and development as a brand and in a practical sense allows the company to expand distribution into a new and lucrative market. "California is the thought leader for the US Health & Wellness market and after successful launches in New York and Miami, we look forward to our partnership with L.A. Libations SIP Program to lead our brand positioning and expanding our geographic footprint into California." Says Mohammed Sabry, Founder / CEO, TBE Beverages
L.A. Libations created SIP in 2019 as an entry point into the L.A. Libations ecosystem where it leverages its distribution and retail relationships as well as its expertise to launch brands in Southern California.  SIP has deep relationships with retailers and distributors into which Brightfox will tap.  LAL is the strategic beverage partner of The Molson Coors Beverage Company, and will provide BrightFox consulting on brand building, commercialization, retail, distribution, wholesale and manufacturing.  "BrightFox's Sparkling products offer great-tasting beverages that deliver superior hydration with additional functional benefits, a combination we know is relevant to consumers and customers.  We are excited to welcome BrightFox into our Incubation Program, and look forward to supporting the brands efforts" stated David Orr, Vice President of L.A. Libations and head of LAL's Incubation program.
About BrightFox: the optimal healthy hydration beverage containing the highest amount of electrolytes, formulated mix of vitamins, minerals, and antioxidants with zero calories, zero sugars, zero sweeteners, zero stimulants, and zero coloring, that optimize your hydration cycle, 'For a Brighter Tomorrow.' With flavor combinations like Blueberry + Vanilla, Cucumber + Mint and Grapefruit + Ginger. 
About LA Libations:  L.A. Libations is a next generation beverage creator and incubator specializing in emerging brands.  As the Emerging Beverage Category Captain and a trusted advisor to many of the country's largest retailers, LAL drives innovation in the "Better for You" category.  LAL has provided services for established brands, including:  Zico Coconut Water, Core Water, and Body Armor; partnered with emerging brands like Zen War, Space Shake and Limitless; and created brands such as Don't Quit!, and Arriba Chelada. To learn more about L.A. Libations, visit www.lalibations.com or on Instagram through @lalibations.
About SIP: L.A. Libations SIP (So Cal Incubation Program) was launched in 2019 to work with pre-revenue and early stage entrepreneurs and companies to create, develop, and expand their brand footprints in the Southern California market.  With a focused, highly passionate start-up mindset and spirited entrepreneurial passion to create win-win solutions for its brand and retail partners. 
Find BrightFox on the web: www.drinkbrightfox.com
Find BrightFox on Instagram: @drinkbrightfox
For more information please contact Mikaila Gaertner at mikaila@drinkbrightfox.com