Vocal: Meet BrightFox, Your New Favorite Hydration Beverage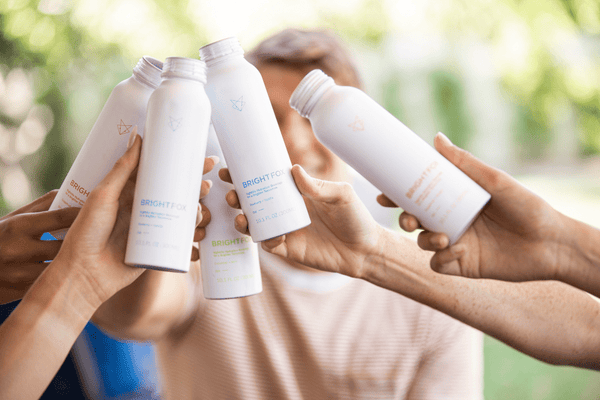 By Laura Odegard; Click here for the original article.
Eco-friendly, no sugar and no stimulants... What's not to love?
If you're looking for a new beverage to switch things up that's packaged in eco-friendly containers, contains no added sugars, stimulants or artificial sweeteners, then look no further because BrightFox should be on your radar.
They offer unique flavor combinations such as Blueberry + Vanilla, Cucumber + Mint and Grapefruit + Ginger. Plus, all of the flavors you can choose in either still or sparkling. These make the perfect afternoon refresher for a boost of hydration or mixed in with your favorite spirits for a light and refreshing cocktail. I had the chance to speak with BrightFox founder, Mohammed Sabry to learn a bit more about the brand.
What was the inspiration behind starting BrightFox?
We wanted to create a beverage that was forward looking and future proof. The market continues to demand eco-friendly, healthy solutions but have had very few choices thus far.
Hydration is a crucial sub-category in the beverage industry with very few options that are effective, healthy, eco-friendly, and not boring!
Was there a turning point in your life that inspired you to limit consumption of ingredients like sugar, artificial sweeteners, stimulants, etc?
I spent the majority of my career in advertising working with beverage companies like Pepsico, Coca-cola, Red Bull, Heineken, and Nestle. They all recognize and understand the need to limit the consumption of sugars, sweeteners, colors, and stimulants, but again there's usually some sort of catch or compromise.
The markets and regulatory bodies moved to ensure this consumption was banned in schools and heavily taxed on shelves. Similarly, in our home, after becoming a father of three young children, we changed our perspective on the importance of limiting the intake of sugars, sweeteners, color, and stimulants.
When, in your daily routine, is your favorite time to have a BrightFox?
Brightfox has become a staple in my everyday ritual. I typically start my day with one of our still variants. It's a great source of vitamins, minerals and electrolytes that help give me the boost of energy I need to start my day strong. For instance, the B5 and B6 help boost my metabolic functioning, and reduce the effects of stress.
By evening I shift towards our sparkling flavors. I typically enjoy a cocktail at the end of the day, and we specifically engineered our formula to be incredibly mixable. We also added vitamins and minerals such as choline, to help the body process and eliminate toxins, zinc, to aid in nausea, and the electrolytes help hydrate.
Why do you think it's important to consume beverages that have no sugar, sweeteners or stimulants?
The literature against sugar and sweeteners is overwhelmingly available of course. For me personally, I feel that they are a main contributor to diabetes and obesity. With regards to stimulants, there are so many natural and healthy alternatives that can give us the boost we are looking for without having to artificially jump start the nervous system.
How can one live the 'BrightFox' way of life?
BrightFox is dedicated to a 'Brighter Tomorrow'. Living the BrightFox way of life, means you are consciously making the choice to take care of yourself, and the environment around you, while having some fun doing so. BrightFox is sexy. BrightFox is fun. BrightFox is healthy.
BrightFox is working hard to make a positive impact on the world. What action do you hope to inspire others to take part in?
BrightFox worked closely with Brooklyn based industrial designer and Fast Company 2019 "Most Important Design Companies" honouree Joe Doucet to create the iconic BrightFox branding and aluminium bottle design. A single bottle of BrightFox recycles 400 plastic bottles, and provides a real imperative for consumers to recycle their bottles due to the various returns programmes globally. 75% of aluminium ever created for the food and beverage industry is still in the market today. Most of us know that we are in the midst of an environmental crisis; plastic is a major contributor to the problem and poses the largest environmental threat. By 2050, there will be more plastic in our oceans than fish. By choosing aluminum, BrightFox is doing its part to help lessen our negative impact.
Given the current situation, how is BrightFox serving the community?
We have been doing our part to create a Brighter Tomorrow for our local communities. That commitment is needed now more than ever in a world rocked by the COVID-19. BrightFox was on the front lines helping hydrate our medical heroes with thousands of bottles during the pandemic.
Where do you see the future of the hydration beverages industry going?
I think we are beginning to pave the way for the future. Today we are in the era of optimization, where we are delivering the most effective and versatile hydration solutions without compromising on health and the environment. Tomorrow will promise a much more customized approach.
What's next on the agenda for you guys?
As our partner venues in New York, Miami, and Germany, are beginning to reopen and we are very excited to work closely with them to come back stronger than ever. We will continue to grow our portfolio of partners and collaborators every week.
We are very excited about our West Coast expansion, so Los Angeles will be the next major destination for BrightFox, while a Dubai launch is also planned for later on in the year.
Where can people get their BrightFox and keep up with the latest?
You can grab your favorite flavors of BrightFox directly on our website (www.drinkbrightfox.com) or Amazon. Also find out about all of our partner venues and retail locations online. To get the latest on events, giveaways, and contests check us out on our Instagram (@drinkbrightfox).