Keto Anywhere: Keto friendly Drinks - Which one will quench your thirst?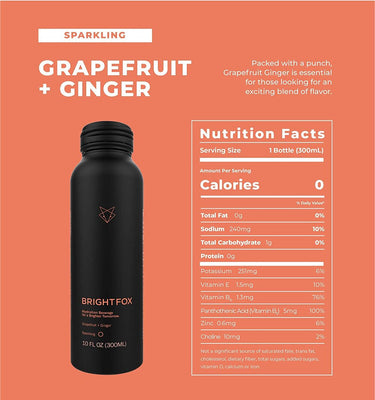 The following is a review from Keto Anywhere, THE community for people interested or engaging in Keto or Low Carb. Check them out to learn more about how & where to maintain this diet in your daily life.
By Celine Bucher; Click here for the original article.
Brightfox - Grapefruit + Ginger - Sparkling
About the company: Brightfox's founder, Mohammed Sabry wanted "to create a beverage that was forward looking and future proof" He saw demand for eco-friendly options that are healthy and provide hydration. After having "spent the majority" of his "career in advertising working with beverage companies like Pepsico, Coca-Cola, Red Bull, Heineken and Nestle" at saw how they "all recognize and understand the need to limit the consumption of sugars, sweeteners, colors, and stimulants" which unfortunately seems to always come with a "sort of catch or compromise".
He himself drinks Brightfox drinks every day and enjoys them as "a great source of vitamins, minerals and electrolytes"
A big part of Brightfoxes identity lays also in their dedication to Social Good. From actively supporting local charities to the aluminum bottle that "recycles 400 plastic bottles,"
They are currently working on launching with partners in Europe as well as UAE / Dubai.
Sweetener used: None that I can identify
Cleanliness of ingredients for strict Keto: Main ingredients seem to be carbonated water and citric acid. Then I'm seeing supplements like sodium, potassium, vitamins. Looks clean to me!
Serving size: 10fl oz
Calories per serving: 0 kcal
Net Carbs per serving: 1gr
Carb calculation: 1gr (Total Carbs) - no deductions. I'm not sure where it comes from though. Maybe the citric acid?
My thoughts on serving size: This can be drunk plain or mixed in with alcohol like Vodka, Gin etc. I think the serving size is fine with either. I love the screw cap which means you can drink some now and more later.
Visual appeal: I find the bottle design beautiful. The sparkling ones are in black bottles and the still ones in white bottles. The liquid itself was slightly milky-transparent.
My smell review: I could definitely smell the grapefruit. Really pleasant smell.
My texture review: I'd compare it to sparking water in texture.
My taste review: The first taste I got was sour which I'm sure comes from the citric acid and its acidity. It then transitioned to sweet. I like the sparkle. I got the grapefruit with a hint of ginger. I'm not sure I'd drink a whole botte plain but I'm excited to try it mixed in with e.g. Gin. I had my non-Keto spouse try it too. He drinks more soda etc than me - I drink plain water 99% of the time - and he enjoyed it.
Further notes:
Says it's scientifically formulated with vitamins, minerals, electrolytes and antioxidants

Contains all the Vitamin B5 and B6 you'll need for the day

They use aluminum bottles in an effort to be more eco friendly.
Overall: I'm intrigued! While I don't see myself moving away from drinking mostly water throughout the day I really like the idea of using this for alcoholis drinks. I plan on trying it with Gin and also with Tequila. I would say it is similar to flavored seltzers - at least for this sparkly one.
Other products available: They have 2 more flavors. Cucumber + Mint and Vanilla + Blueberry. All flavors come either in Sparkling (black bottle) or Still (white bottle).
Where to buy: On their website www.drinkbrightfox.com or Amazon.
Price: $79.99 for a pack of 24 bottles on their website. If you sign up for their tribe and do a subscription you get the first 24-pack for free. OR they have sample packs with 3 bottles for $7.99 which I think is a great way to try before committing to more. You can also purchase the 24 packs of Amazon. They show as $79.99 but - at time of writing this - have either $30 off coupons or 25% off coupons once you open the page!