Booze World News: BrightFox Hydration Beverages Perfect Summer Cocktail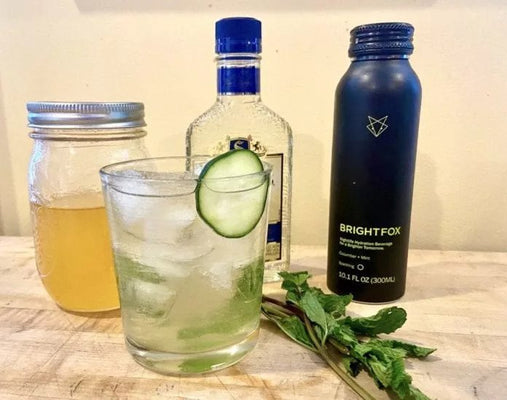 By Evie Horn; Click here for the original article.
I am the biggest proponent of hydrating while drinking, to the point where I've been cut off from ordering water at bars, but never liquor. Naturally, when I was given the opportunity to test out BrightFox's Hydration Beverage, I was intrigued. BrightFox markets its beverage as "eco-friendly, healthy hydration for a brighter tomorrow." Made with vitamins, minerals, electrolytes, and antioxidants, their mixers are meant to keep you hydrated while drinking and help ward off that nasty hangover the next day.
I have the Cucumber Mint Sparkling flavor, but they also offer Blueberry Vanilla and Grapefruit Ginger flavors, all in either still or sparkling variety. What stood out most to me about the Cucumber Mint flavor was the bottle. The sleek black silhouette paired with neon yellow print draws you to the product. It almost looks like it would be an energy drink or something conventionally bad for you, which makes it even more enjoyable when you find out it's made for your benefit. Plus, their bottles are aluminum, which means less CO2 emission and easy recyclability, so they're better for the environment as well.
On their website, BrightFox suggests pairing the Cucumber Mint flavor with gin, so I started there. I'm a massive fan of gin, so having that added flavor of cucumber and mint was welcomed. I also dabbled with tequila, which paired nicely with the mixer as well. While these basic mixed drinks were great on their own, I wanted to challenge myself and see if I could come up with a cocktail using BrightFox.
After a few failed attempts, including a way too sweet strawberry syrup and an unwanted addition of lemon juice, I finally nailed it. I'm not an intricate cocktail bartender, I serve a few Old Fashioneds and Manhattans per night, so I was incredibly proud when I created not only a drinkable but delicious cocktail. The drink is sweet, super refreshing, and has some wonderful complex flavors. The best part is, once the syrup is made, it's relatively simple to throw together. To me, it is the perfect summer cocktail for a backyard dinner with friends or to enjoy while cooking or grilling. With all of that said, I present to you, The Garden Fox.
The Garden Fox With BrightFox Hydration
Ingredients:
Instructions:
For Cantaloupe Simple Syrup

Add water and sugar to a medium saucepan on high heat.
Bring to a boil
Once boiling, add cantaloupe and stir to combine
Lower heat and let simmer for about 20 minutes
The syrup should be light orange and cantaloupe should be soft and darker in color
Use a mesh strainer to strain into a jar
Let sit in the fridge for 1-2 hours or cool with an ice bath if needed 

For The Garden Fox

Add mint leaves and cantaloupe simple syrup to a cocktail glass
Gently muddle, 5-10 seconds
Add

 

gin

 

and ice
Top with BrightFox Cucumber Mint
Stir for 10-15 seconds, until combined
Add cucumber slice for garnish
Enjoy!